Showing products 1 to 8 of 8
Our 24 cream chargers pack are our cheapest whipped cream chargers available, perfect for home use, gastronomy beginners and much more. You'll be glad to know that even our cheapest cream chargers come with speedy dispatch.
Our 48 cream chargers packs are of the highest quality pure N2O, containing 8g to double the yield of your cream or infuse drinks, oils and vinegars. These are five-star cream chargers, and with 48 in a box just think how much whipped cream you can make!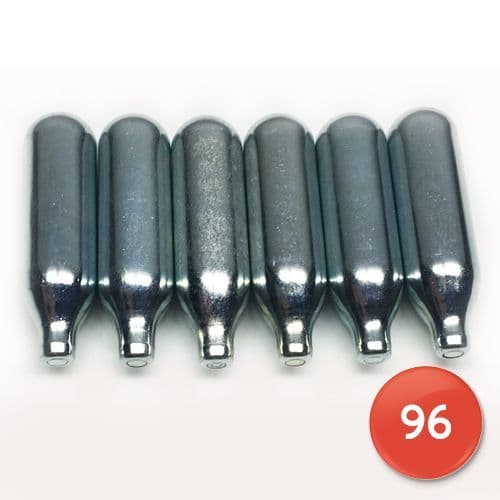 Our 96 nitrous oxide cream chargers pack is our most popular quantity, providing the perfect quantity for home use and catering establishments such as cafes, bars and restaurants. Our 96 whipped cream gas canisters are big on quality and even bigger on value for your money.
Our 144 cream chargers are all of the finest quality, they are standard fitting and recognised to be high quality, easy to use and affordable. Suitable for both home and catering use. Discover airier, fluffier, more luscious whipped cream with our 144 cream charger packs.
Our 192 cream chargers are suitable for both personal use and commercial use - the perfect means to craft deliciously delectable drinks and desserts. The quality of these chargers is assured, only containing 100% pure N2O and every charger contains the FULL amount of gas.
Our 240 cream chargers are the perfect opportunity to seize large-scale quantities of whipped cream goods before reaching trade sizes. Every charger is pressurised with about 2 litres of gas - which is more than enough to cover desserts, drinks and more.
Our 360 cream charger packs are perfect for large catering events and catering establishments to serve large-scale whipping needs. For commercial, trade only use, providing a lower cost per charger for your business.
600 wholesale/bulk cream chargers, top quality and easy to use. Commercial use only, perfect for catering establishments such as restaurants, bars and patisseries to order cream chargers in large bulk quantities. Discover more for less with our 600 packs of cream chargers.
Buy UK Cream Chargers To Upgrade Your Cooking
Cheeky Monkey provides high-quality, simple, affordable whipped cream chargers across the UK. Our cream chargers are made out of 100% recyclable steel and full of nitrous oxide (N2O).
Cream chargers are the essential element of making whipped cream! Our cream chargers are available in two different sizes - (8g) and (16g). Most people find the standard size more convenient, but if you're looking to make whipped cream in bulk the larger (16g) cream chargers might be more suitable.
Whether you're looking for our cheapest cream chargers in our 24 pack, or something a little larger with our wholesale 600 cream charger packs we have just the product for you, online. And obviously everything in between, so our 48, 96, 144, 192, 240 and 360 cream charger packs.
All-inclusive Whipped Cream Charger Supplies
It's all well and good having your cream canisters on hand, but if you're wanting to make a sweet batch of whipped cream you're going to need a whipped cream charger dispenser. These are the perfect companions for your cream chargers, enabling you to take your drinks, desserts and sauces to the next level.
All of the dispensers sold on our site are fully compatible with our NO2 cream chargers. If you're looking to expand from just desserts, take a look at our CO2 chargers, nitro chargers and soda syphons to expand your skills!
Discover premium quality from our cream chargers with stock from premium brands, Pro Whip, Liss, Mosa and iSi.
What Exactly Is A Cream Charger?
You may have heard the term 'cream charger', 'cream canisters', or even 'nos chargers' thrown about in the world of cooking and baking. So, what exactly is a cream charger? They're actually pretty simple, cream chargers are tiny, little cylinders of compressed nitrous oxide gas. With their most common and obvious use being to make whipped cream.
You could, of course, whip up some whipped cream the normal way. But what's the fun in that? Our high-quality cream chargers are vital in creating a lighter, fluffier, airier whipped cream that will melt in your mouth.
When using nitrous oxide chargers you can expect a whopping one and half times the volume of cream you'd normally expect! The effect is fairly instant, simply fill the body and the whipped cream dispenser with cream and pressurise with a cream charger. Once it has been charged it can remain for 7-10 days like that, until you decide you want your whipped cream. Simply, point and squirt.
Get More Out Of Your Kitchen Antics With Cream Canisters
Whipping cream is just the beginning, there's so much you can do with a handy cream charger. Cream chargers are the catalysts that are going to help you excel in the kitchen, one attempt at a time.
Infuse your whipped cream with flavours, chocolate, lemon, mint - there are endless possibilities. Just add the flavour before you use your cream canister. Get even more out of your desserts with Monin syrups in a variety of yummy flavours.
You could try something even more out of the box - try the trick with the whipped cream, or some espumas, microwave cake? Our simple nitrous oxide cream chargers may just open a door into the world of cooking for you!
The possibilities are truly endless.
OVER 18's ONLY:
This product is not for sale to under 18's. Resellers, please ensure your customers are over 18.
MISUSE: We will refuse to sell nitrous oxide (N2O) cream charger cartridges to you if we suspect you intend to misuse them or are under 18.
Cream Charger Recycling Information:
All of our cream chargers supplied are made from 100% recyclable steel. It is important that you ensure that your cartridge is fully empty before removing it from your charger. Please do not dispose of unused cartridges.
Important Safety Usage Information:
Please ensure for your safety that your cream chargers are stored properly, you can find instructions on how to do so on the package.
Please take the utmost care when handling your whipped cream chargers, the metal turns extremely cold if punctured. Alternatively, if you suffer a high-pressure gas burn, it's imperative you seek medical attention immediately.
If you have any more safety or use questions on our whipped cream chargers please do not hesitate to get in touch with us through email or through our social media.