Showing products 1 to 8 of 8
Our 24 cream chargers pack are our cheapest whipped cream chargers available, perfect for home use, gastronomy beginners and much more. You'll be glad to know that even our cheapest cream chargers come with speedy dispatch.
Our 48 cream chargers packs are of the highest quality pure N2O, containing 8g to double the yield of your cream or infuse drinks, oils and vinegars. These are five-star cream chargers, and with 48 in a box just think how much whipped cream you can make!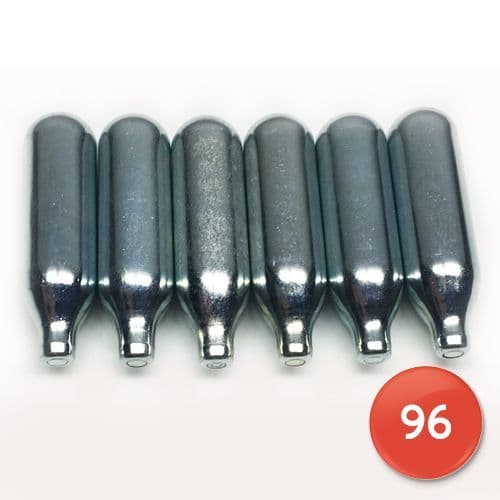 Our 96 nitrous oxide cream chargers pack is our most popular quantity, providing the perfect quantity for home use and catering establishments such as cafes, bars and restaurants. Our 96 whipped cream gas canisters are big on quality and even bigger on value for your money.
Our 144 cream chargers are all of the finest quality, they are standard fitting and recognised to be high quality, easy to use and affordable. Suitable for both home and catering use. Discover airier, fluffier, more luscious whipped cream with our 144 cream charger packs.
Our 192 cream chargers are suitable for both personal use and commercial use - the perfect means to craft deliciously delectable drinks and desserts. The quality of these chargers is assured, only containing 100% pure N2O and every charger contains the FULL amount of gas.
Our 240 cream chargers are the perfect opportunity to seize large-scale quantities of whipped cream goods before reaching trade sizes. Every charger is pressurised with about 2 litres of gas - which is more than enough to cover desserts, drinks and more.
Our 360 cream charger packs are perfect for large catering events and catering establishments to serve large-scale whipping needs. For commercial, trade only use, providing a lower cost per charger for your business.
600 wholesale/bulk cream chargers, top quality and easy to use. Commercial use only, perfect for catering establishments such as restaurants, bars and patisseries to order cream chargers in large bulk quantities. Discover more for less with our 600 packs of cream chargers.
Discover Pro Whip Cream Chargers At Great Prices
Pro Whip cream chargers offer a cost-effective whipped cream charger that doesn't sacrifice on quality. The chargers are perfect for use on desserts, pastries and coffee, consistently delivering high-quality results.
Pro Whip is an established brand that can be relied on for producing great results.
Our Pro Whip cream chargers work perfectly with a range of cream whippers including the iSi 0.5L Profi Cream Dispenser, Black Metal Head Whipper and our Professional Stainless Steel 1L.
Create Tasty Whipped Cream With Pro Whip
ProWhip cream chargers are made from high-grade brushed aluminium and contain 8 grams of pure N2O. Each canister is able to produce a half a litre of whipped cream, or creamy ingredients.
The low-cost cartridges are able to convert ordinary whipping cream more effectively than mechanical whipping, yielding better results for your food and drink creations.
Pro Whip cream chargers have a long history in the hospitality and catering industry, and as such have years of experience providing amazing results. Alongside the likes of iSi, Mosa and Liss, Pro Whip cream chargers deliver the added flavour and value you've been looking for.
From levelling up your morning coffees and hot chocolates to creating dazzling desserts, get more out of your cooking with Pro Whip.
Explore Our Pro Whip Cream Charger Quantities
Pro Whip cream chargers are available in many different quantities from 48, 96, 120, 192 and more - so you can get your hands on the quantity that works best for you. We even provide wholesale quantities, in 360 and 600!
Discover the great quality Pro Whip cream chargers have to offer, experience the results for yourself.