Showing products 1 to 4 of 4
Charger Holder. This charger holder is designed for replacing the holder that is used for 8gm chargers. This holder fits the 8gm charges that we sell on www.creamchargers.org.uk it will fit ¼, ½ and litre sizes of plastic head whipped cream dispensers. It is also suitable to be used with Mosa soda syphons and will accommodate their CO2 refills. NB: this replacement part will NOT the larger 16gm sized equipment and neither is it suitable for Liss brand soda syphons. Metal head dispenser are extremely durable and we have never had need to stock these parts so these plastic charger holders are the only ones that we stock at Cheeky Monkey Cream Chargers. What is a charger holder? The clue is very much in the title – this is the piece of kit that holds the nitrous oxide cylinder (charger) as you screw it down onto its threaded counterpart on the dispenser the charger is pierced which allows the gas to flow into the dispenser. In most cases, the holder does not need to be a complete seal because the mouth of the charger cylinder is sealed as it makes a union with the dispenser head. This item is suitbale for our cheaper (Royal Mail) delivery options or combine it with a larger order to take advantage of discounted delivery.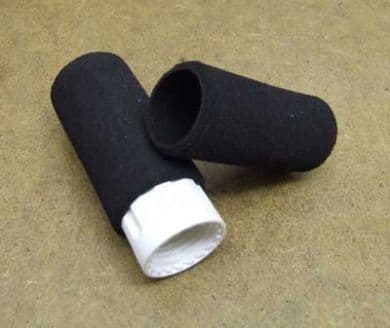 Comfort Grip. No more friction burns on your sweaty palms with this super-grippy foam grip. At creamchargers.org.uk we think that life should not contain more hardships than is completely necessary. The whole ethos of using nitrous oxide to make whipped cream rather than simply a whisk and a bowl is about ease and comfort – so it stands to reason that if we can make even the use of your nitrous chargers more comfortable then we should do. The comfort grip fits around the outside of the charger holder to make it easier to operate and much softer to grip – it will fit all of the chargers that we sell on creamchargers.org.uk. We especially recommend this product for use with any of the cheaper plastic models. Are you in the wholesale or professional trade? If you have a need to make larger quantities of whipped cream, or small quantities more frequently the comfort grip is certainly something that is worth you considering. It is just one of those simple things that can make your life easier. If you have a café and employ staff they will certainly thank you for taking the time to spend just that little bit of extra money on making their lives a bit easier. For the few pennies that you spend on this you may be rewarded with fewer staff absences and a harder-working more efficient workforce!
Metal Replacement Head Every loves a metal head – they are stronger, easier to clean and also shinier. This replacement cream whipper metal head fits the standard whippers sold on www.creamchargers.org.uk and will also fit Mosa and Best Whip cream dispensers. These dispenser heads are die-cast in solid aluminium and are built to give plenty of service. They are superior to the plastic versions both I terms of the quality of the build and the ease with which they can be cleaned. NB: These will NOT fit the 16gm sized systems (either those sold by Cheeky Monkey Cream Chargers or those from other suppliers) These are not compatible with the stainless steel or professional whipping systems. Please contact us if you are unsure of the nature of your dispenser. To clean these replacement heads simply follow the instructions that came along with you original whipped cream dispenser. They are best cleaned with the original brushes but failing that a bottle brush will suffice. Do not clean in a dishwasher because damage to the product will almost certainly occur in time. Every replcement head comes with the relevant seals and gaskets.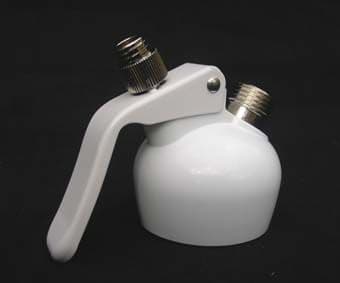 Cream Whipper Plastic Replacement Head. This spare part is with all of the standard 8gm sized cream whippers that are sold by Cheeky Monkey Cream Chargers. It will fit all Mosa and BestWhip 8gm whippers. This replacement plastic head incompatible with either the 16gm sized or professional whipping systems. The plastic head comes complete with a hot/cold heat resistant gasket. Please note, these are not designed for the heavy duty use associated with professional and catering kitchens – for this purpose we strongly recommend that our customers purchase a stainless steel whipper. Wash the plastic whipper head and warm sopay water and never use a dish washing machine.
Spare parts for cream whippers and cream supplies. Cheeky Monkey cream chargers does everything within its power to keep its customers going.
The products that we sell at creamchargers.org.uk are all of a high quality. We have a trusted chain of manufacturers and suppliers. If your product is within the warranty period then contact us before you select the spares you need.
Most parts are available and can be bought to replace worn out and old cream whippers. Part of the ethos here at creamchargers.org.uk is to be gentle on the environment. Everything from the way we manage our offices to the choice of Delivery Company is done with a view to minimal environmental impact. So for this reason we like to think that our customers would consider repairing a cream whipper with new gaskets before they simply throw it away and replace it with a new one.
The flask of the cream whipper is constructed to withstand very high pressures, so cannot be repaired – if there is any sign of damage to a whipped flask the please do not use.
Cream chargers and carbon dioxide refills are disposable so we are unable to provide a refill service for them – these spares are all related to the dispensers themselves.
If you break your cream charger then please don't cry - we can sell you a spare part to get it back onto the road again. Don't worry be happy!